On-site Electrochlorination Systems
For stand out performance choose Hyprolyser®
Our unique patented Hyprolyser® electrochlorination systems offer a safer, more efficient and environmentally friendly way to provide hyprochlorite for a wide range of water disinfection uses.
Whether you're specifying for commercial pools, aquatic centres, spas, hydrotherapy facilities or theme parks, you can rely on Hyprolyser® systems to provide performance that stands out from any alternative.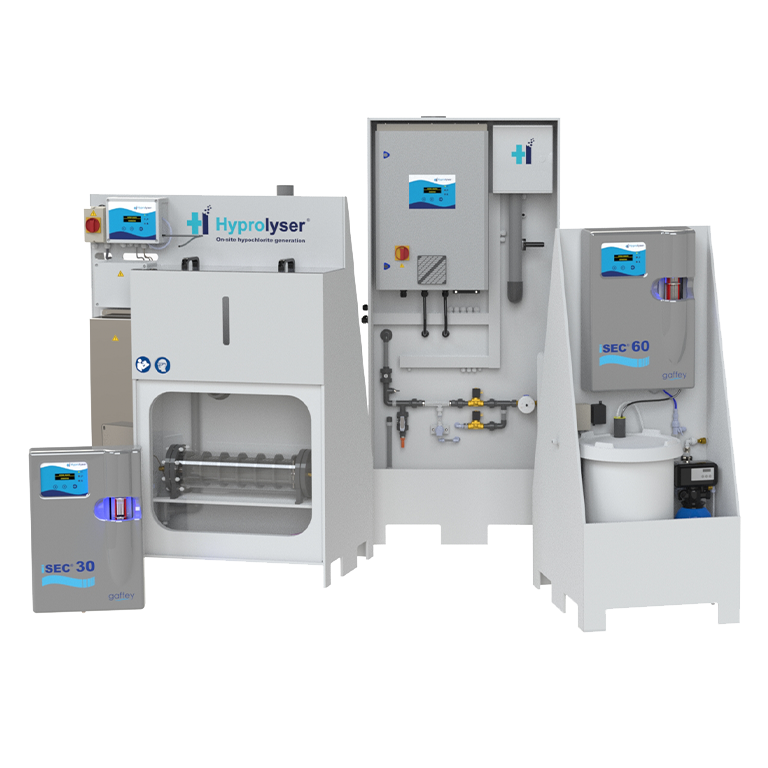 The perfect balance
Hyprolyser® uses a sustainable system technology that brings a unique alternative to chlorine dioxide.
A true blend of efficiency, cost effectivity, flexibility and all round safety, our on-site electrochlorination systems stand tall against any alternative.
Manufactured in the UK to exacting standards and exceptional quality, Hyprolyser® challenges convention and defies expectation. Electrochlorination is also fully compliant with UK Biocidal Product Regulations, offering an effective water disinfection solution for the leisure industry. Contact us to find out more about Hyprolyser®.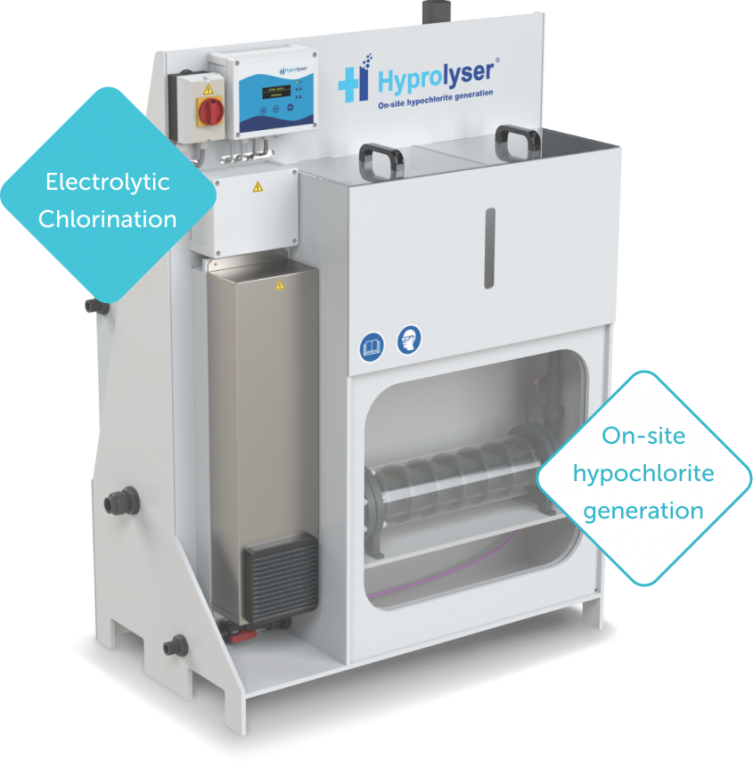 Why choose electrochlorination?
Using salt as the raw material to generate your own supply of hypochlorite offers several advantages. Salt is a widely available, renewable commodity used in many commercial and industrial settings, and is competitively priced for both small and large scale applications.
Compared to potentially hazardous commercial chemicals, salt is very safe and easy to store, has an infinite shelf life and requires minimal packaging which can be easily recycled – making Hyprolyser electrochlorination systems the sustainable choice for electrolytic chlorine generation.
The Hyprolyser® Family
Our unique Hyprolyser® iSEC, Compact and Standard electrochlorination generation systems provide a huge range of application flexibility, and all benefit from simple installation and easy maintenance.
Meticulous attention to construction detail and thorough testing guarantee efficient output, robustness and long term reliability. For peace of mind all our electrolysers are provided with a 5 year limited (pro-rata) warranty.
As one of the leading electrochlorination system manufacturers, all our Hyprolyser® electrochlorination systems are made in the UK; manufactured and assembled by hand in our state-of-the-art facility in Lancashire and installed worldwide through our network of approved distributors.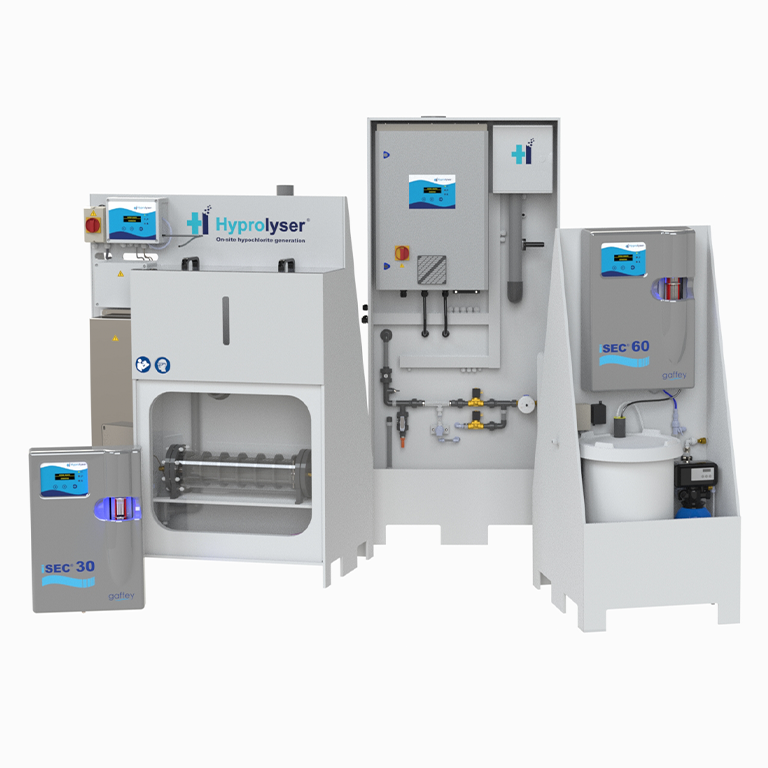 High capacity electrochlorination systems
Offering a high level of installation flexibility in a wide variety of applications, our unique patented Hyprolyser® Standard electrochlorination systems range offers additional scale, safety, sustainability and functionality for a variety of industrial sectors. 4250 to 8500 models are available for high capacity requirements such as large drinking water treatment plants, wastewater treatment plants and multi-pool waterparks.
How electrochlorination works
Electrochlorination is the on-site production of sodium hypochlorite solution by electrolysis of brine.
The resulting generated sodium hypochlorite solution is non-hazardous and contains less than 1% sodium hypochlorite (0.5-0.7%). This is far below the hazardous threshold, providing sufficient health & safety and COSHH management benefits, lowering workplace risk.
Each of our Hyprolyser® systems benefits from our unique vacuum dosing and plug-and-play technologies. This provides users with a huge range of application flexibility, in conjunction with simple system installation, easy operation and straightforward maintenance.
Hyprolyser® system categories
Low hazard system

Delivery and storage of salt, no toxic dangers to staff or neighbours, no hazardous waste disposal and no chemical handling.

Simple to use

Fill saturator with salt, no remedial maintenance of chlorine injector, no technical intervention required by the operator, low hazard system.

Low environmental impact

Minimal recyclable packaging, reduced transportation, no hazardous waste disposal.

Economical

Low cost of salt, reduced pH correction chemical costs, reduced operator labour, low service costs.

Reliable

Annual test & inspection, 2 year service interval, 2-5 year warranty, 6-8 year typical
electrolyser life.

Low maintenance

Smart design and robust engineering requires simple, minimal periodic maintenance.
Safety Features
Integrated air dilution fan with sealed electrolyser compartment with no external Ex zones. Quantitative ventilation airflow sensor for failsafe shutdown. A Hydrogen sensor for system shutdown if any hydrogen is detected in the vicinity of the equipment.
Quality Control
Commercially produced hypochlorite products can quickly begin to degrade during storage. Using food grade salt and potable quality supply water, Hyprolyser® generates a fresh, high quality hypochlorite solution everyday, on-demand.
Reducing the cost of chlorination and eliminating the need for hazardous chemicals transportation, handling and storage.
Connectivity
The whole of the electrolysis process is controlled using our specially developed, dedicated software. All key performance parameters are monitored and can be accessed remotely via Modbus output.
Already a Gaffey Customer?
Don't forget you can benefit from a wide range of resources to make sure your system is running at optimum efficiency.